Maximalism is the name of the game for one more season and GUCCI knows it like a season quarterback.

Since Allesandro took over, I am falling hard for GiGi more and more every season... this guy lives in his own planet - hitting pay dirt, following NO RULES. And of course, I love that.
Innocent and playful whilst being honest.
Love that even more.
I swear, last season's show almost brought me to tears.

Anyhow - bed outfit leaves the bedroom (no need for special intros, we are all slaves to anything silk for almost half a decade now), but that isn't to say, it can't take itself seriously. Quite the contrary - GUCCI always gives ground for the most serious form of 'more is more', my favourite fashun mantra. Work it.

Alex, I am sure you are digging these vintage GG shades, am I right?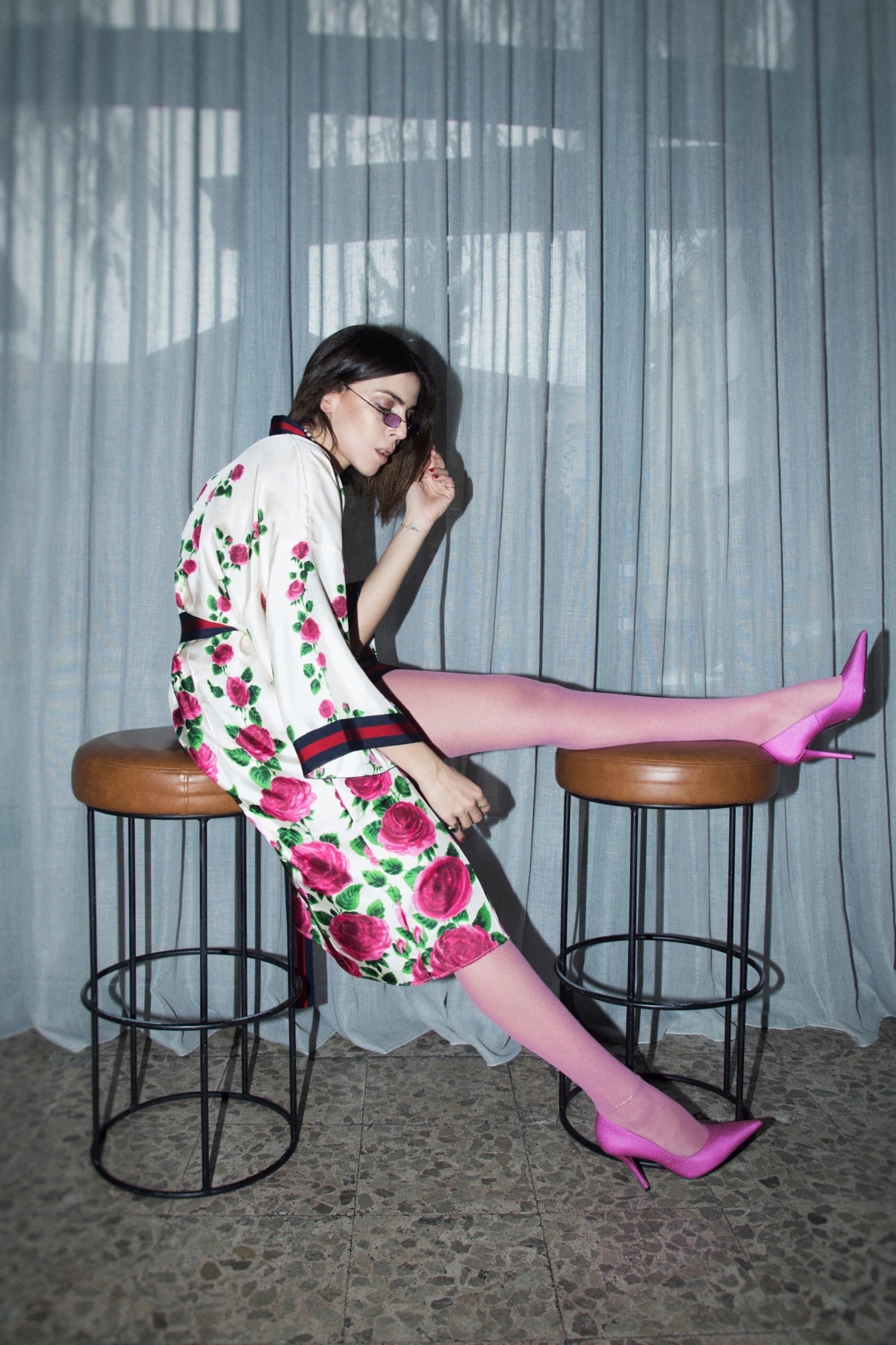 Second look and still on the bubble gum palette.
Me, obsessing over (so much) pink. Who knew?
 
PINK IS PUNK.
 
And who doesn't love Pierpaolo?
PARENTAL ADVISORY: explicit content
When Flannels asked if I would weigh in on how to style a few of their key season pieces, I thought less fashion mumbling, more actual doing info. And by actual, I obviously mean Insta worthy material, or how to interestingly spread the #ootd all day every day.
For that hasn't been grammed has never been worn, right? You know I am right (smirking face emoji)
I am having a major crush on colour tights at the moment (in case you haven't noticed) - thought the skirt and them are a match made in heaven.
So, I took this gangster look and my almost inadequate brain (because it's only Tuesday and it's still malfunctioning) and we all popped in to Miss Floricienta's paradiso - scarf is by her as well.

Tada - bipolar yours truly.
The playful feminine self, the ladylike and the gangsta (paradise).
We all have a few personalities anyway yes?
Or have I been too influenced by SPLIT? (aka one of the best films I have watched in the past few months).
T-shirt, skirt and handbag by Gucci, all via Flannels
Sunglasses by Gucci (Vintage)
Scarf by Floricienta Iuvenalis
Earrings by Voodoo Jewels
A. x
* Special thanks to Bottega Amaro and Floricienta Iuvenalis for providing us with the location spaces.